Tanzania Holidays & Accommodation *
Tanzania Holidays gives a snappy travel guide with maps, pictures and accommodation reviews. Find out which is the best Tanzania accommodation to stay at, which regions to visit in Africa and what scenic attractions and day tours to try out.
Beautiful Holidays Specialists
Tanzania Holidays
Africa

Tanzania is a land of contrasts. The country's strategic location means that you can explore ancient Islamic cities on the coast and islands, replete with colourful markets. Swim in the Indian Ocean to cool off in hot and humid weather.

If you prefer a more stereotypically African experience, then you can go on safari, visit the biggest lakes in Africa, trek across lush mountains and explore the magnificent plains of the Serengeti, famed for its wildebeest migration across the Mara River in October and April. There are both beach and safari resorts in Tanzania, or you can travel independently using the reasonably good public transport system

If you're a city type, be sure to visit the markets and museums of Dar Es Salaam – you can also take a day excursion on a boat from here, to enjoy some beautiful beaches.
Travel Facts
Capital: Dodoma
Language(s): Swahili, English
Area: 945,203 km2 (31st)
Population: 43,739,000 (30th)
Currency: Tanzanian shilling (TZS)
Time Zone: EAT (UTC+3)
Drives on the: left
Airport: located in Dar Es Salaam
January Temp : 22°C / Rain Days: 1
July Temp: 20°C / Rain Days: 0

What to Do in Tanzania Africa
Tanzania has several world famous sights. Mount Kilamanjaro, Africa's highest mountain, is in the north of the country. You must hire a local guide in any attempt to climb the snow-covered peak. Alternatively, you can admire the view from the savannah of either the Serengeti or Ngorogoro Conservation Area. The Serengeti is the most complex and least disturbed ecosystem in Africa with almost 3 million wildebeest, gazelle and zebra.
Ngorogoro, bordering the Serengeti to the east, is an enormous crater and one of Africa's best-known wildlife resorts. Come here to see black rhinos, flamingos and cheetahs, and wonder if you are descended from any of the early human fossils that have been found in the area. Beautiful and mysterious Zanzibar is noted for its role in the spice trade; come here to wander the ancient alleyways of Stone Town and enjoy the fantastic beaches.
Tanzania Holidays Guide
Dodoma is officially the capital city, and you can visit the Parliament Buildings. However, Dar Es Salaam is Tanzania's main city in most respects; visit here to haggle over carvings and jewellery the market, take an excursion to Bongoyo Island and enjoy the restaurants and bars.

If you're travelling around the country, you're likely to end up in Morogoro at some point – a small but bustling former German colonial town. Iringia is a great base for hiking, and has some historical sights. It's also a gateway to the Ruaha National Park, which is quieter and less touristy than other safari destinations in Tanzania.
Tanzania Accommodation
Tanzania is most definitely one of Africa's highlights.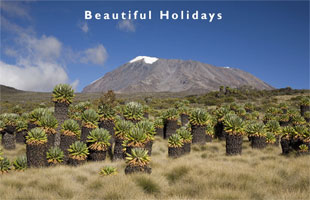 Typical Scenery of Tanzania
Tanzania Highlights
Dar Es Salaam
Mount Kilimanjaro
Lake Victoria
Ngorongoro Crater
Serengeti National Park
Selous Game Reserve
Kalambo Falls
Moshi
Songea
Great Rift Valley