South Africa Holidays & Accommodation *
South Africa Holidays gives a snappy travel guide with maps, pictures and accommodation reviews. Find out which is the best South Africa accommodation to stay at, which regions to visit in Africa and what scenic attractions and day tours to try out.
Beautiful Holidays Specialists
South Africa Holidays
Africa

The tourist board's slogan used to be "The World in One Country"; a trip to South Africa is fantastic and varied. The game reserves are world famous, and you stand a good chance of seeing the Big Five animals if you come at the right time of year. Surfing and swimming on South Africa's magnificent coastline has always been popular, and you can enjoy trekking across beautiful mountain ranges

It's not all about the countryside either – Cape Town is one of the most spectacular cities in the world, while vibrant Johannesburg is increasingly safe and popular. South Africa has had a tragic past, but some of the best tourist experiences are ones that encourage you to learn about apartheid and speak to those who suffered under the old regime.

The people are another of South Africa's major highlights – be polite and friendly, and expect a warm welcome. Definitely try to hear an African- the V&A Waterfront in Cape Town often has local performers playing.
South African Country Facts
Capital: Pretoria (executive), Bloemfontein (judicial), Cape Town (legislative)
Language(s): Afrikaans, English, Zulu and others
Area: 1,221,037 km2 (25th)
Population: 50,586,757 (24th)
Currency: Rand (ZAR)
Time Zone: SAST (UTC+2)
Drives on the: left
Airport: 45 km south of central Pretoria
January Temp : 22°C / Rain Days: 6
July Temp: 11°C / Rain Days: 0

What to Do in South Africa Africa
Most visitors will combine a visit to one or more cities with trips to some of South Africa's spectacular natural highlights. If you're starting off in Cape Town, go on a trip to Robben Island, visit Cape Point, take the cable car up Table Mountain, go to the beach and head on a wine tasting tour.
If you decide to stay in the Winelands, consider Franschhoek -a mecca for eating and drinking. If you're starting in Joburg, you're likely to visit the famous Kruger National Park and amazing mountains of Mpumalanga. Whever you are, end the day with a braai, complete with obligatory boerewors.
South Africa Holidays Guide
Natal is another South African highlight. Go swimming in Pacific Ocean, try some of the very hot curries, visit battlefields from the Zulu war and see Durban's amazing aquarium.

The Garden Route, along the south coast, is perennially popular, and goes through Knysna, Plettenberg Bay and Port Elizabeth – but make sure you venture inland to get a real feel for the country. Graaf Reinet is charming, and close to the jaw-dropping Desolation Valley. If you want to go somewhere adventurous, try visiting the Transkei – this former 'homeland' is off the beaten track, and is excellent for surfing.
South Africa Accommodation
Crime is often a worry for visitors, but if you use common sense and do as the locals do, the chances are you'll be fine.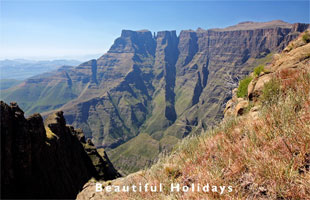 Typical Scenery of South Africa
South Africa Highlights
Cape Town
Durban
Devil's Peak
Johannesburg
Kruger National Park
Apartheid Museum
Hector Pieterson Museum
Mandela Museum
Sterkfontein
Hartbeespoort Dam