Morocco Holidays & Accommodation *
Morocco Holidays gives a snappy travel guide with maps, pictures and accommodation reviews. Find out which is the best Morocco accommodation to stay at, which regions to visit in Africa and what scenic attractions and day tours to try out.
Beautiful Holidays Specialists
Morocco Holidays
Africa

Morocco is famous for its beautiful climate, colourful, spice scented bazaars, beautiful beaches and ancient cultural sights. It's also easier to get to than you might think; as well as having several package resorts on the coast, you can also visit some Moroccan cities on city breaks from Europe.

Explore the vibrant cities with their brightly coloured houses. Taste the fantastic cuisine, including tagine and freshly-made couscous, washed down with copious amounts of mint tea. If you want to get away from civilisation, then you can explore the desert, either on a jeep or by camel.
Travel Facts
Capital: Rabat
Language(s): Arabic, Berber
Demonym: Moroccan
Area: 446,550 km2 (58th)
Population: 32,208,557
Currency: Moroccan dirham
Time Zone: WET (UTC+0)
Drives on the: right
Airport: about 8 km east-northeast of Rabat and about 90 km northeast of Casablanca
January Temp : 12°C / Rain Days: 6
July Temp: 22°C / Rain Days: 0

What to Do in Morocco Africa
Moroccan cities are fantastic, and generally combine beaches with ancient historical sites. Rabat is the capital; here you can see the ancient Carthaginian city of Chellah, and the ornate Royal Museum. Casablanca is one of the main gateways to Morocco – visit the spectacular Hanna mosque, and cool town in the Hammam. Go shopping in the maze-like souks in Marrakesh; the night scene in the city's Djemaa El-Fna is like a scene from the Arabian Nights, with fire-eaters, snake charmers and exotic dancers. Erfoud is the gateway to the Sahara – if you want to try a camel safari, then this is the best place to come.
If you have time for a longer holiday, try combining some cities with a beach break, and a trip into the interior. Hiking trails in the Atlas mountains are easily reached from Marrakesh or inland from Casablanca is the stunning imperial city of Fes, much of which remains car-free, with dazzling architecture and massive leather tanning quarters for dying its iconic Fez hats.
Morocco Holidays Guide
Mediterranean Morocco has close links to Spain, both practical and spiritual. It also has several beach resorts. Tangier is the main city and ferry port; grab a seat at a local café and watch city life go by. The Atlantic Coast is more laid back, particularly towards the south of the country. If you enjoy hiking, then visit the Atlas Mountains, the home of the Berber people. A great base to do this from is Fez, a medieval city – visit the tannery and the traditional pharmacy.
Morocco Accommodation
Morocco is a varied destination – and wherever you are, you'll find great souvenirs!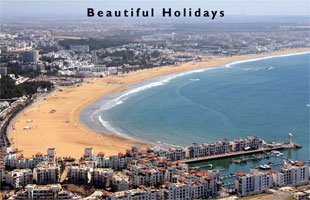 Typical Scenery of Morocco
Morocco Highlights
Meknes
Volubilis
Chefchaouen
Todra Gorge
Essaouira
Draa Valley
Erg Chebbi
Fes el Bali
Ait Benhaddou
Ejemaa el Fna